I've been making Julie Hasson's Peanut Sesame Noodles for years. With its slurp-worthy noodles, vibrant veggies, and Asian-style peanut butter dressing, it's a gorgeous dish that's big enough to serve a large crowd or distribute over a few lunches and dinners.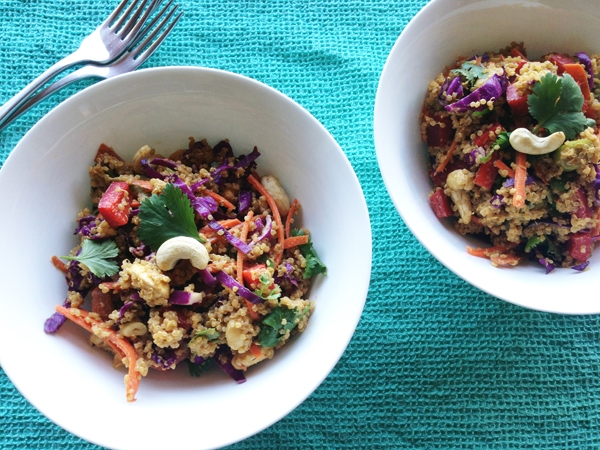 I was craving some peanut noodles for lunch yesterday but decided to switch things up a little bit. With Julie's recipe as inspiration, I halved the dressing and swapped the noodles and peanut butter for quinoa and cashew butter. I also added some red bell pepper (capsicum) for color, and some additional raw cashews for extra crunch.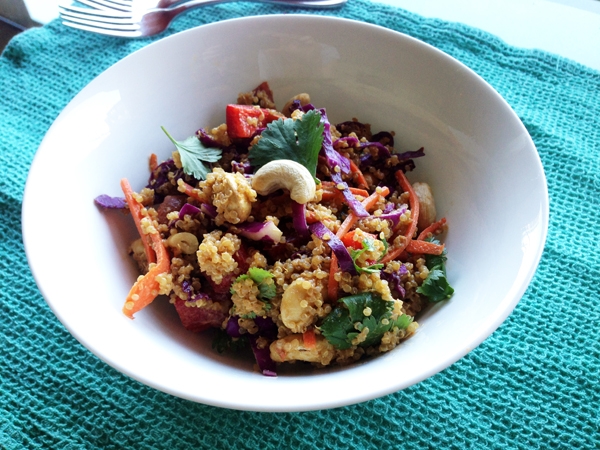 I really like this salad – it's fresh and colorful, and exactly the type of thing I look forward to having for lunch or a light dinner. It's also a fancier version of the Spicy Peanut Quinoa Salad that I make so often.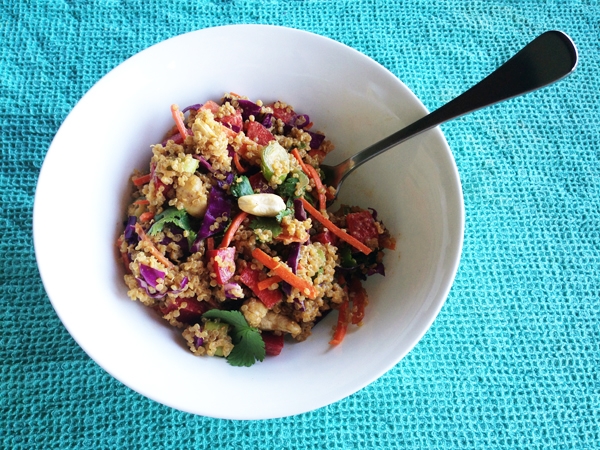 Notes
Feel-free to use almond butter & slivered/halved almonds OR peanut butter & peanuts instead of the cashew butter & cashews
Add some tofu cubes quickly sauteed in sesame oil and Tamari for an extra protein punch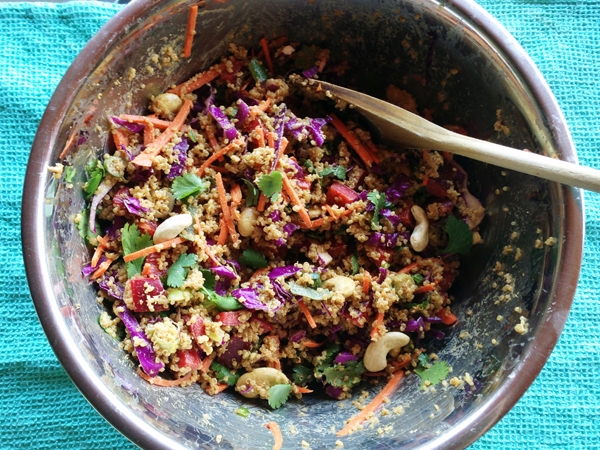 Asian Cashew Quinoa Salad
This bright salad is creamy yet crunchy - my idea of a perfect lunch! Vegan and Gluten-Free
Author:
Angela @ Vegangela.com
Ingredients
1 cup quinoa, rinsed and drained
2 cups finely cut purple cabbage
1 cup shredded carrots
1 red bell pepper (capsicum), diced
2 green onions (scallions), thinly sliced
½ cup chopped fresh coriander (cilantro)
½ cup cashews (or peanuts)
Dressing
¼ cup cashew butter (or peanut/almond butter)
2 cloves garlic, minced
1 tbsp grated fresh ginger (or 1 tsp dried ginger)
3 tbsp tamari (light soy sauce)
2 tbsp agave (or maple syrup)
2 tbsp warm water
1 tbsp rice vinegar
1 tbsp sesame oil
½ tsp crushed red chili pepper (or 1 tsp Sriracha sauce)
Instructions
Place the quinoa along with 2 cups salted water in a medium saucepan. Cover and bring to a boil, then reduce to the lowest heat setting. Simmer until water is completely absorbed and quinoa is fluffy, about 20 minutes.
In a large bowl, whisk the dressing ingredients together.
Add the quinoa to the dressing and mix well to combine.
Add the veggies, onions, cilantro and cashews.
Notes
Adapted from http://www.juliehasson.com/2012/10/peanut-sesame-noodles