Dinner one night last week was inspired by a dish that my old friend Andrea used to make. I never did get her actual recipe, but it was based on a wild rice blend. If you've been here before, then you know that I'm a big quinoa lover, and that I love quinoa-a-fying rice and noodle based recipes. So without further ado, I present to you my take on Andrea's stuffed peppers…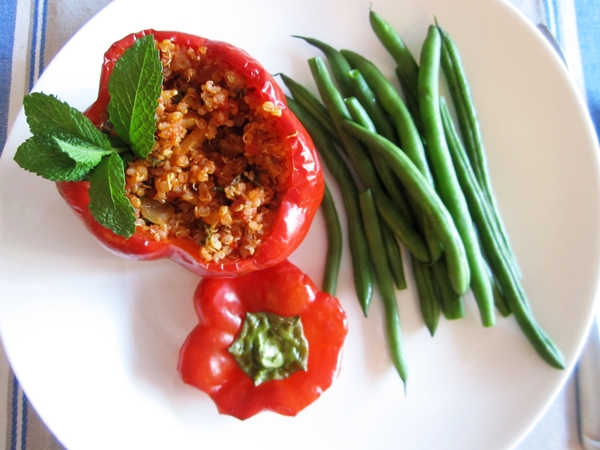 One of the reasons why I decided to make this recipe is because I have this lovely little mint plant on my balcony that is slowly being devoured by flies. I figured I might as well start using the mint before there isn't any of it left! If anyone knows how to keep the bugs away from my mint plant, please leave a comment below!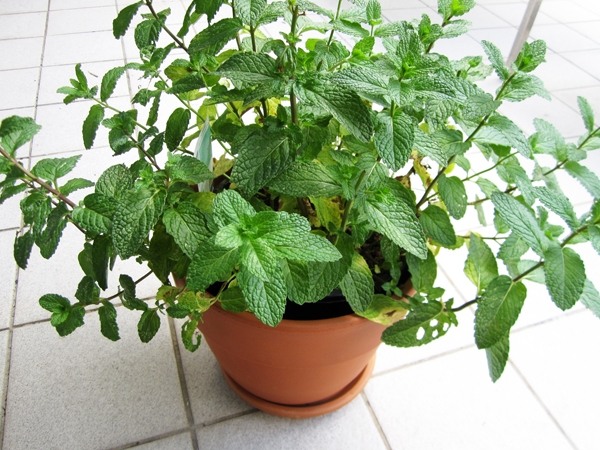 You have to cook the quinoa on the stove and then bake the stuffed peppers in the oven, so this is more elaborate than my "ready in under 30 minute" type recipes. But while it may seem like a holiday & special occasion dish,  you can actually prepare the filling and stuff the peppers the day before, and then bake them the next day, making them a good make ahead Sunday meal option. You can also freeze the unbaked peppers and pop them out as needed, making this fancy little recipe quite versatile after all!
Notes
It may sound weird to combine mint and pasta sauce, but don't skip the fresh mint, as it really adds so much to the recipe. Having said that, fresh basil would also work in a pinch.
It may not seem like it, but one stuffed pepper and a side of green veggies is actually quite filling. If you'd rather serve these as a side dish or appetizer, I suggest cutting and stuffing the bell peppers lengthwise, giving you a total of 8 stuffed half-peppers.
I meant to include a can of white cannelloni beans in this recipe, but realized afterwards that I had forgotten them entirely. So if you're looking for a bigger protein punch from this dish, feel free to toss them into the quinoa mixture, keeping in mind that you may need a 5th bell pepper to account for the additional volume.
The quinoa filling is really delicious, so feel-free to use it on its own if you don't have time for all the stuffed-pepper business.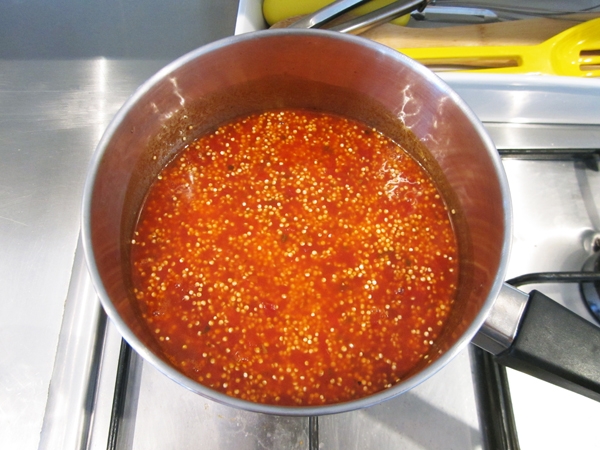 | | |
| --- | --- |
| | |
| | |
| --- | --- |
| | |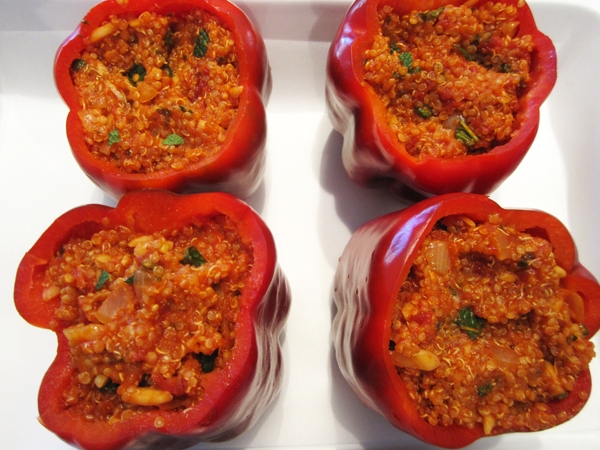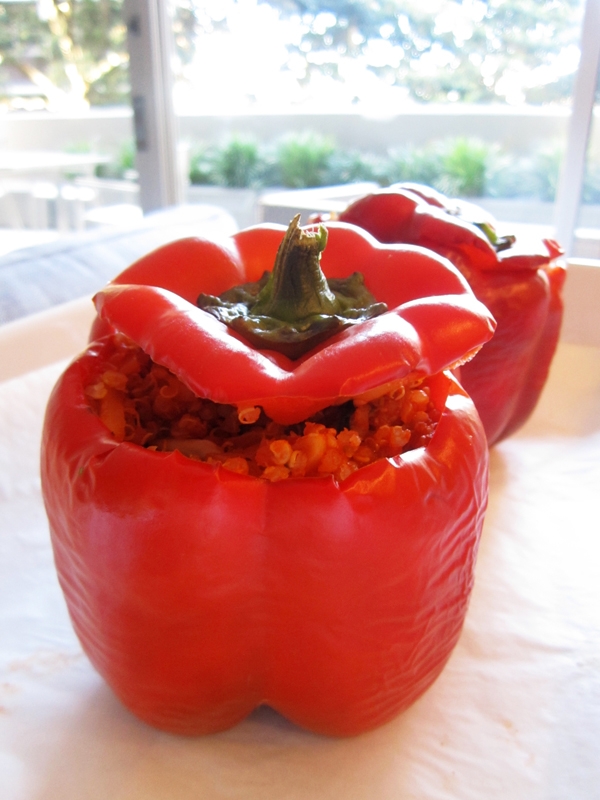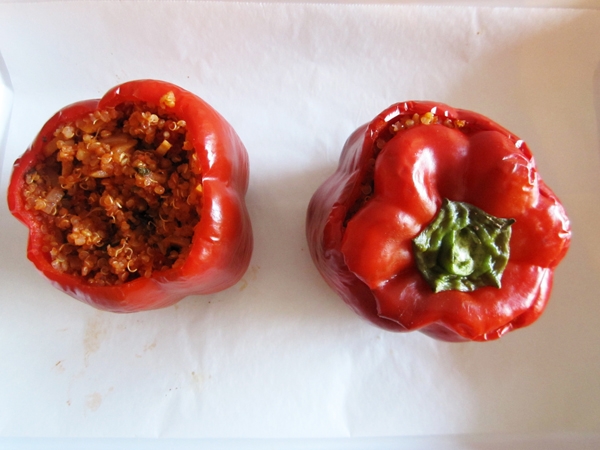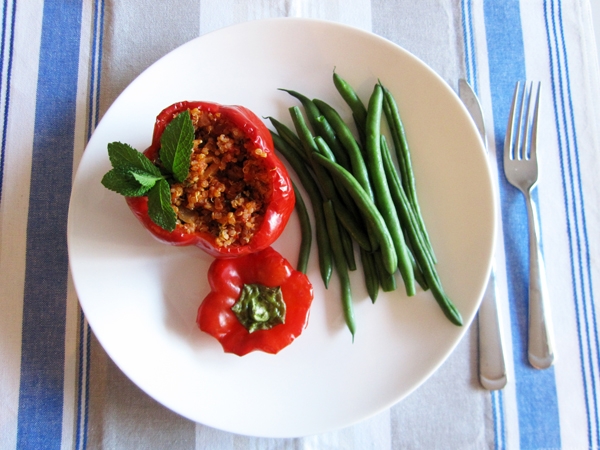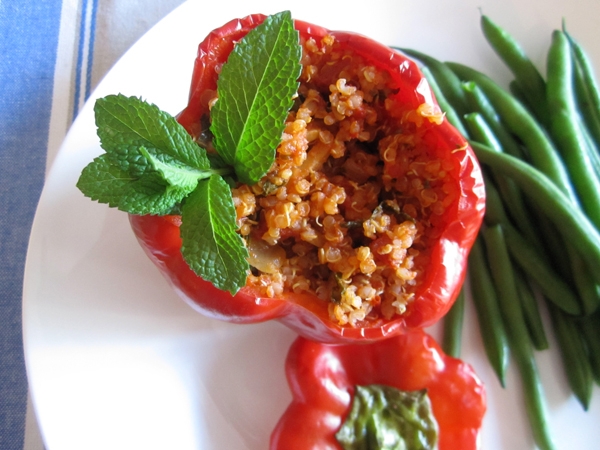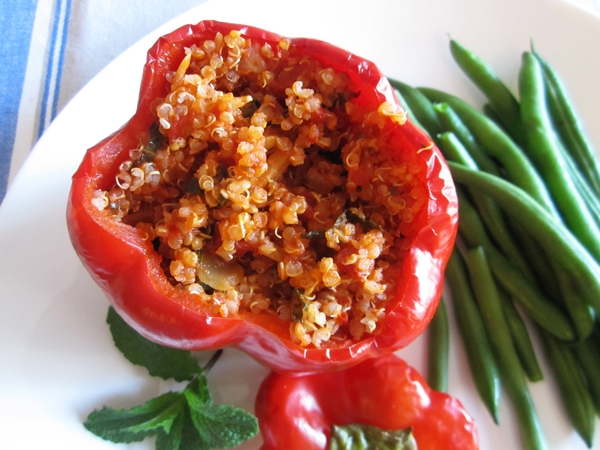 Vegan Make-Ahead Quinoa-Stuffed Peppers with Almonds and Mint
Subtle mint and crunchy toasted almonds make these quinoa-stuffed peppers a great main dish or side. Vegan and gluten-free.
Author:
Angela @ Vegangela.com
Ingredients
4 bell peppers (capsicum)
1 cup quinoa, rinsed and drained
1 (540g) jar pasta sauce
1+1/4 cup water
½ cup slivered almonds
1 tbsp olive oil
1 onion, diced
1 garlic clove, minced
2 tbsp nutritional yeast
¼ cup fresh mint
salt & pepper
Instructions
Preheat oven to 350°F/175°C.
If serving full peppers, use a paring knife to carefully cut the tops off the bell peppers, otherwise slice them lengthwise to serve them as half-stuffed peppers. Using a spoon, gently remove the seeds and scrape out the white flesh inside the peppers. Set aside.
Mix quinoa, 1 cup of the pasta sauce, and 1+1/4 cups of water in a medium saucepan and bring to boil. Lower heat to lowest setting, cover saucepan and simmer until all liquid is absorbed, about 15 minutes.
Meanwhile, toast the almonds in a frying pan for a few minutes by sautéing them and being sure to not let them burn. When toasted, place them in a mixing bowl.
Heat olive oil in frying pan over medium heat and cook the onions and garlic until translucent, about 3 minutes. Add to the mixing bowl.
When the quinoa is ready, add it to the mixing bowl along with the remaining pasta sauce, nutritional yeast and mint. Season with salt and pepper.
Divide quinoa mixture evenly among the bell peppers, gently packing it down and making sure to fully fill each pepper. Top each pepper with its reserved top, if using.
If making ahead, cool and chill the peppers in the fridge or freezer, being sure to protect them from freezer burn.
(If frozen, defrost peppers in fridge overnight.) Arrange peppers upright in a parchment paper-lined oven-safe dish, cover snugly with foil and bake for 1 hour. Transfer to plates and serve.