I'm sorry for the lack of posts but I've been absolutely swamped with my brother and his friend visiting from Canada. We've been busy sight-seeing and attending various events, and there hasn't been much time to cook, let alone blog. But they left today, and I promise to make up for it for the rest of Vegan MoFo.
I'm not really someone who craves sweets, but last week, I got a craving that I just couldn't shake. In particular, I was craving something coconut-y, but didn't want to go to the effort of making macaroons or cookies. Ideally, it would be healthy and wouldn't require turning on the oven. Thankfully, I had a big bag of shredded coconut on hand, and as I looked through my pantry (really, it's just a measly drawer in my small kitchen!), I found half a bag of dried apricots. Along with a lonely banana hanging out on the counter top, I had the beginnings of a sweet little tropical treat.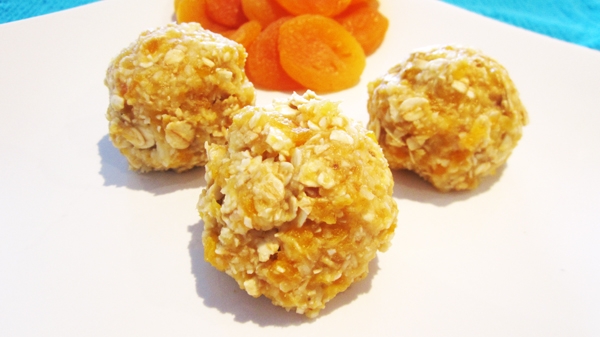 I started out using 1/2 cup of oats, but in the end, I found the mixture too runny to form into balls, so I ended up using 1 cup total and that did the trick. I added 3 tbsp of maple syrup to the mix, but you could probably get away without any additional sweetener as long as your apricots are nice and sweet. I added coconut oil to amplify the coconut flavor and to help the balls to harden in the fridge.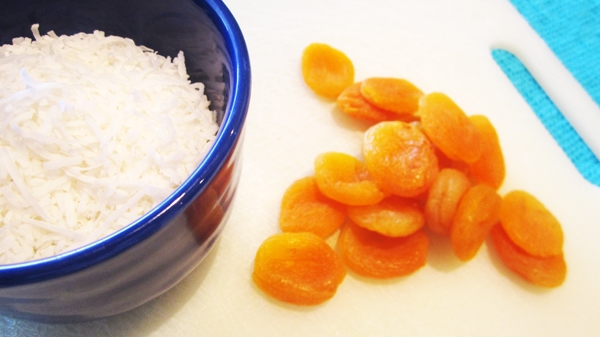 I thought that I would be able to label these as fully "raw", but after a bit of online research, I've learned that most commercially-purchased oats are steamed as part of the processing process, so they can't be considered raw (even if you don't cook them). The same thing goes for quinoa flakes, which I think you could use instead of the oats in this recipe. Oh well, it's still a quick and healthy treat!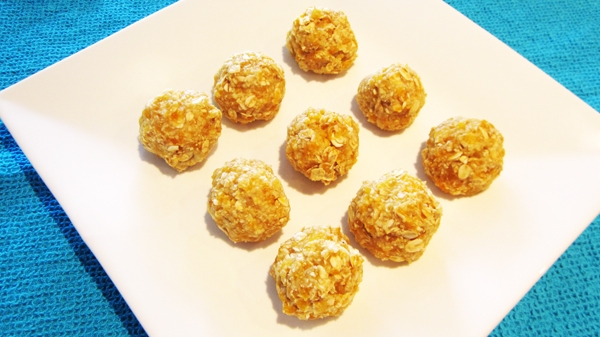 Ultimately, 3 of these babies totally hit the spot and quelled my sugar craving. They're super yummy as-is, but as I'm typing this, I'm already thinking of upping the tropical factor next time by adding a bit of pineapple (dried? fresh? canned?) and/or macadamia nuts. Let me know if you try these and do let me know of any variations that you make!
Almost Raw Coconut + Apricot Oat Balls
These healthy little guys are great as a snack or as a pre-workout treat! No bake. Vegan / low-carb / gluten-free.
Author:
Angela @ Vegangela.com
Recipe type:
Snack, Dessert
Ingredients
1 cup oats (use gluten-free oats as required)
½ cup dried apricot
½ cup grated dry unsweetened coconut
1 ripe banana
3 tbsp maple syrup (or agave syrup)
2 tbsp coconut oil
1 tsp vanilla extract
Instructions
In a food processor, add the oats, and pulse for 20 seconds in order to break the oats down slightly.
Add the rest of the ingredients and pulse until fully combined.
Roll into 12 balls and refrigerate for 1 hour. Store in an airtight container in the fridge.