Since making the Spinach & Lemon Quinoa Bake in December, I've been inspired to cook up a quinoa casserole in the oven. I went with a Southwest/Mexican theme and was amazed at how well it came together. I have to say that I'm pretty excited by this new and easy way of getting quinoa into my diet!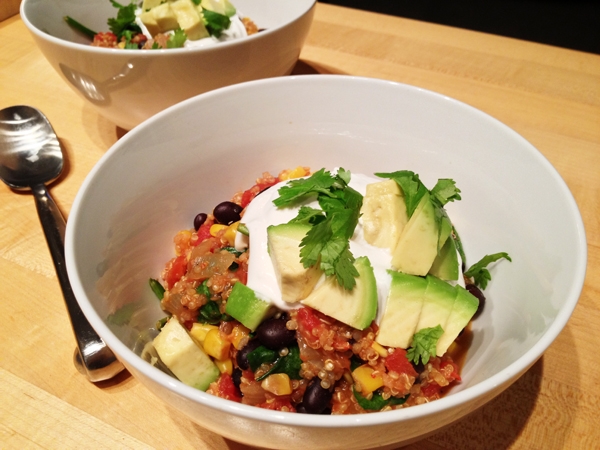 The quinoa cooks directly in the oven, so you don't have to worry about boiling and preparing it first. If you have a stove-top-to-oven dish (like this gorgeous Le Creuset one), then this is a one-pot meal. If you're working with a limited kitchen (like me), then you'll have to fry up the onion and garlic in a frying pan before tossing them into to your casserole dish. Either way, this is a super easy dish that I hope you'll love as much as I did.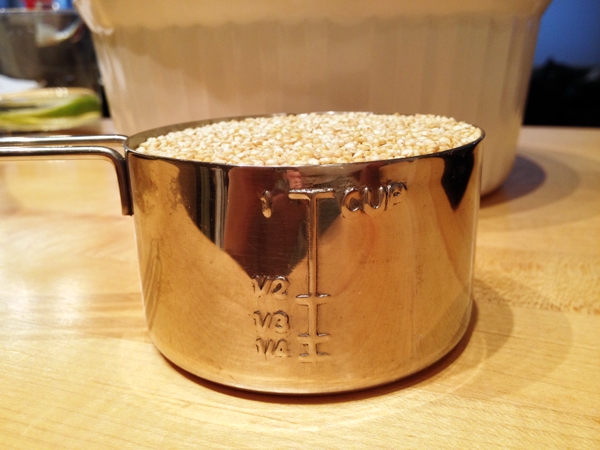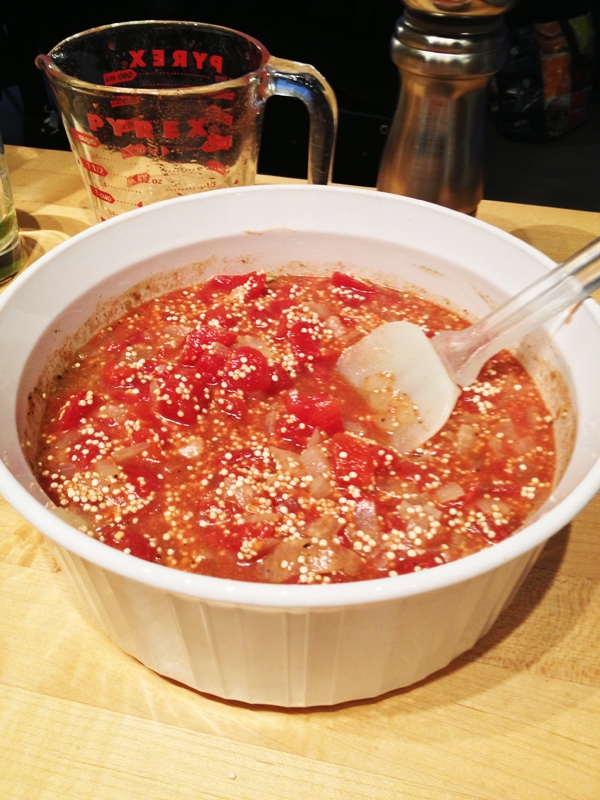 I stirred-in canned beans and corn at the 45-minute mark, but felt that the beans were a little tough. I've therefore written the recipe so that they're added after 30 minutes instead, giving them a half-hour to soften up.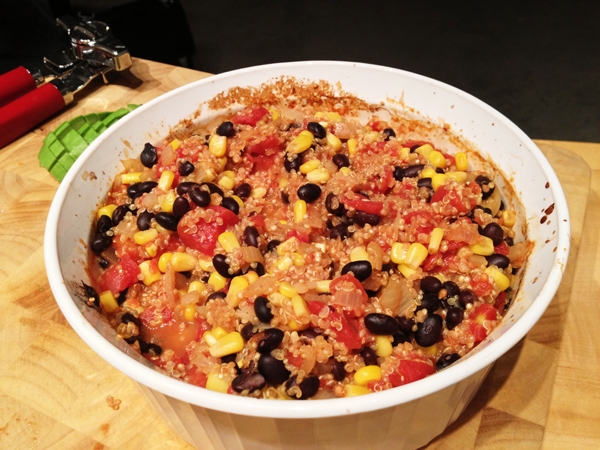 When I pulled the casserole out of the oven, I thought that it needed a bit more color, so I tossed a couple handfuls of baby spinach into it. Pretty + healthy for the win!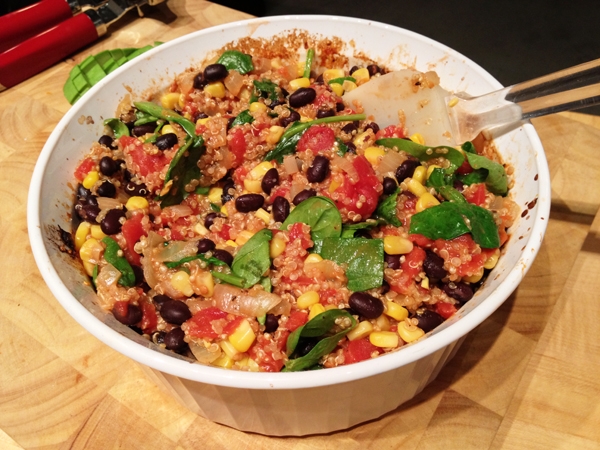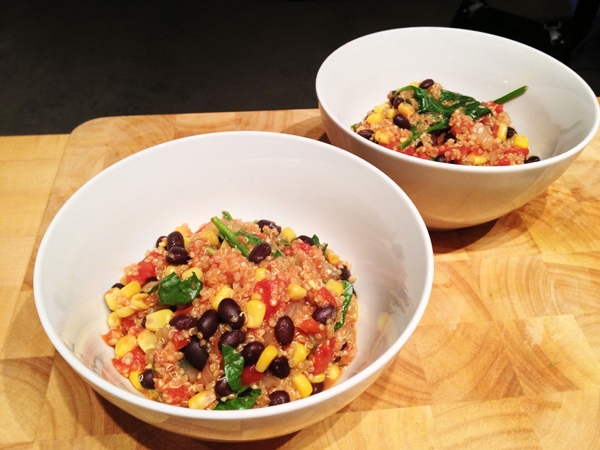 This is good straight-up, but pretty darn amazing topped with a dollop of vegan sour cream, diced avocado, and fresh cilantro. You could also melt some vegan cheese (such as Daiya) on top. Mmm!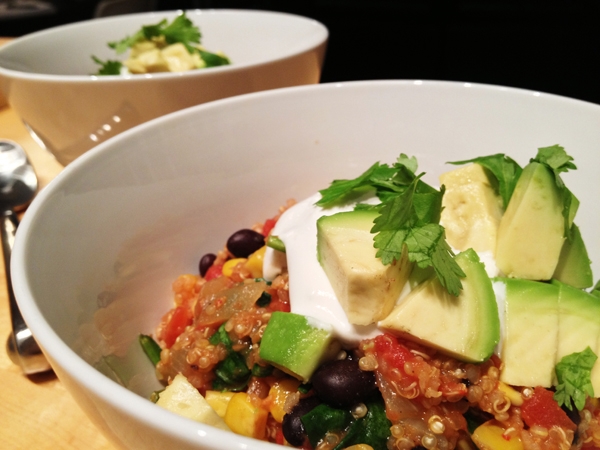 I'm so excited by the prospect of just tossing everything into one pot and letting it cook-up in the oven. My next step will be to reconfigure my Quinoa Chili recipe so that it uses the same technique!

Vegan Oven-Baked Mexican Quinoa Casserole
Fry up the onion and garlic, then toss everything in a casserole dish and let it cook in the oven for 1 hour. Too easy! Vegan / Gluten-Free / Nut-Free / Low-Carb
Author:
Angela @ Vegangela.com
Cuisine:
Mexican, Southwest, Tex-Mex
Ingredients
1 tbsp vegetable oil
1 onion, chopped
1 clove garlic, minced
1 cup uncooked quinoa
796 ml (28 oz) can diced tomatoes, with liquid
½ cup water
2 tbsp nutritional yeast (optional)
1 tbsp tomato paste or ketchup
1 tsp cumin
1 tsp oregano
½ tsp chilli powder (more if you like things spicy)
Salt & freshly ground pepper
540 ml (19 oz) can black beans, rinsed and drained
311 g (11 oz) can corn kernels, with liquid
3 cups baby spinach
Toppings of choice: vegan sour cream, avocado, cilantro, vegan cheese, etc.
Instructions
Preheat oven to 350F.
Heat 1 tbsp olive oil in a medium frying pan (or stove-top-safe 2.8 litre/3 quart casserole dish). Add onion and garlic, and sauté until translucent, about 8 minutes. Remove from heat; and transfer to oven-safe casserole dish if not already using one.
Add quinoa, diced tomatoes (with juice), water, nutritional yeast, tomato paste (or ketchup), and spices. Season with salt and pepper and stir to combine.
COVER and place in oven and set timer for 30 minutes.
Carefully remove casserole from oven and stir in drained beans and corn (with liquid). If the mixture looks dry, add a half cup of water.
Return to oven WITH LID and set timer for another 30 minutes.
Carefully remove casserole from oven and stir in spinach. It will wilt from the heat.
Top with sour cream, diced avocado and/or cilantro and serve.
IF FREEZING: Make full recipe but leave-out the spinach and toppings. Let cool and freeze in airtight container(s). To serve: defrost fully, lightly reheat (in microwave or on stovetop), stir in spinach and add toppings of choice.
Update
September 16, 2013 – A kind reader who runs N=1 Lifestyle just reminded me that this recipe is in fact, freezer-friendly! I had actually discovered this a few weeks ago myself, but had forgotten to update the post. So feel-free to freeze this baby BEFORE adding the spinach and other toppings, and then just defrost and reheat it when you're ready to eat it!