When lunchtime rolled around last week, I was craving Raw Pad Thai, but with the Indian flavors of my Quick & Easy Indian Curry Quinoa…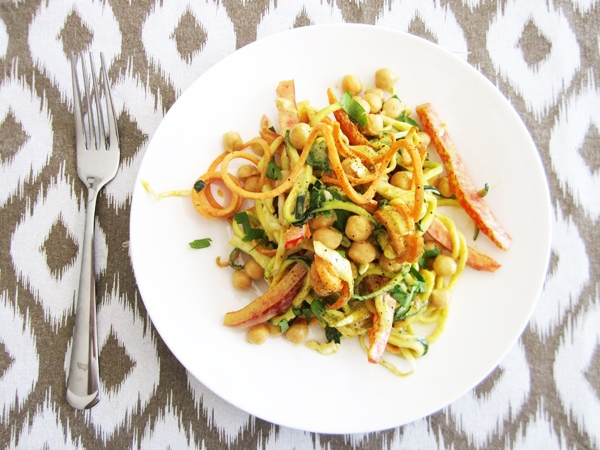 So I took to the kitchen to develop this salad made with raw vegetable "noodles", chickpeas, and a creamy yellow curry dressing.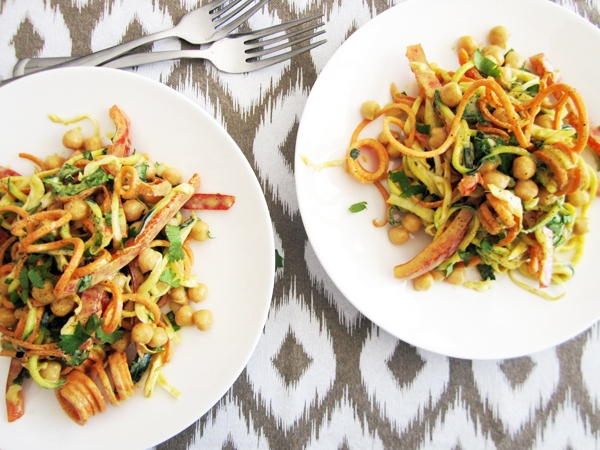 While I could have used my Julienne peeler to make the carrot and zucchini noodles, I used my new favorite thing instead: my Paderno World Cuisine Vegetable Spiralizer!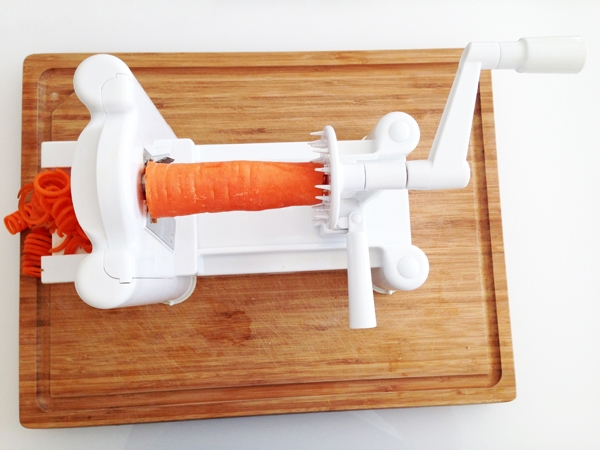 I'm not usually one for kitchen gadgets, but I ordered this baby from Amazon back in September and I can honestly say that I've been using it at least a couple times a week ever since. It's just so fun to make veggie "noodles" out of things like carrots and zucchini, and I find myself eating a lot more of them ever since I got it. I also bulk-spiralize a bunch of carrots every few days and then toss them into salads and stir-fries, as needed. If you're a vegan, or someone who is looking to incorporate more fresh foods into your diet, I highly recommend buying one of these. BONUS: It's currently under $35 on Amazon.com!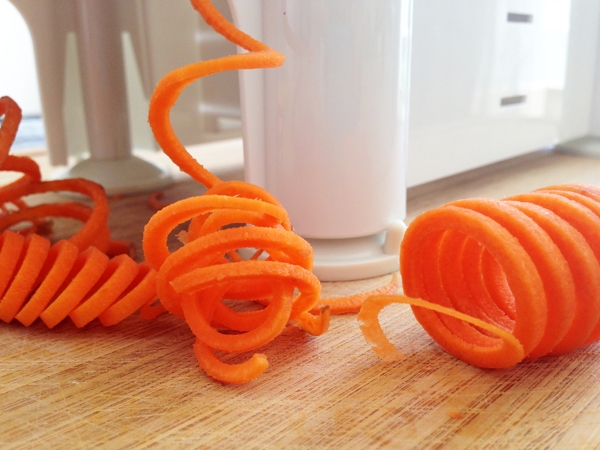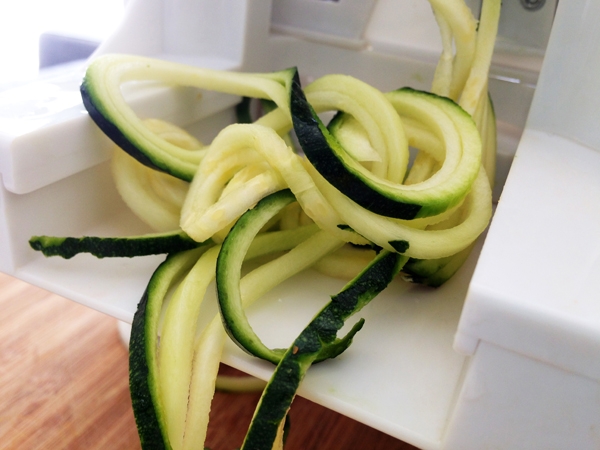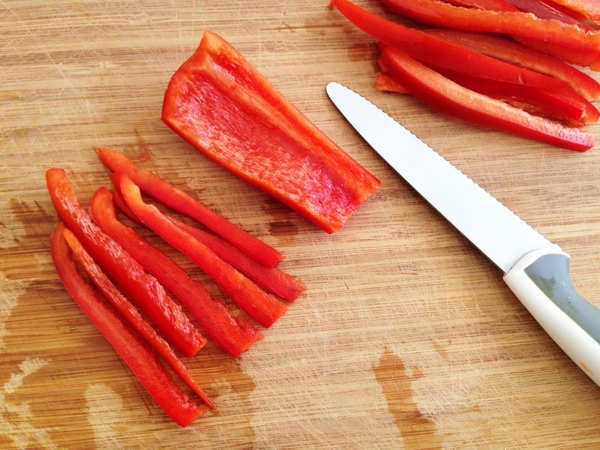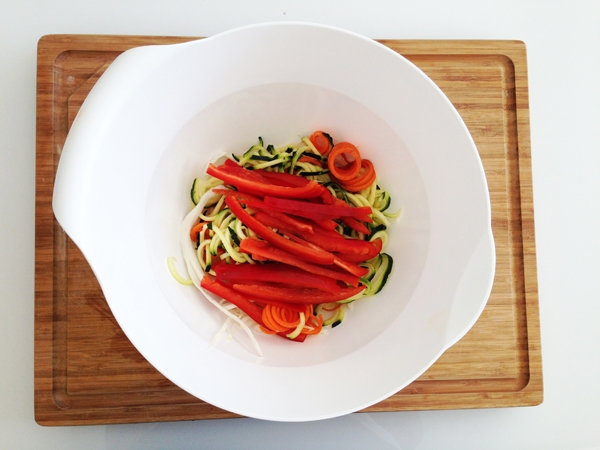 I used tahini as the base for the dressing because it has a relatively neutral taste, and to be perfectly honest with you, I've been kind of obsessed with it these days. I make my Creamy Lemon Tahini Dressing every week, and when I'm really lazy, I just drizzle watered-down tahini directly onto salad greens. As a quick breakfast, I spread tahini on toast, and top it with sliced bananas and toasted sesame seeds. Once you get a taste for the stuff, it can be quite addicting! Having said that, you could replace the tahini with any nut butter, including peanut butter or almond butter.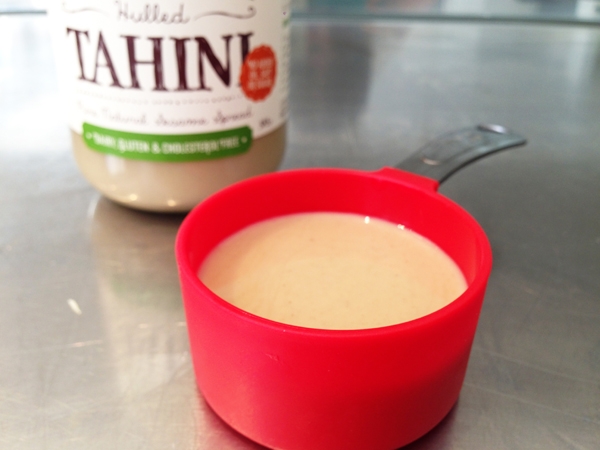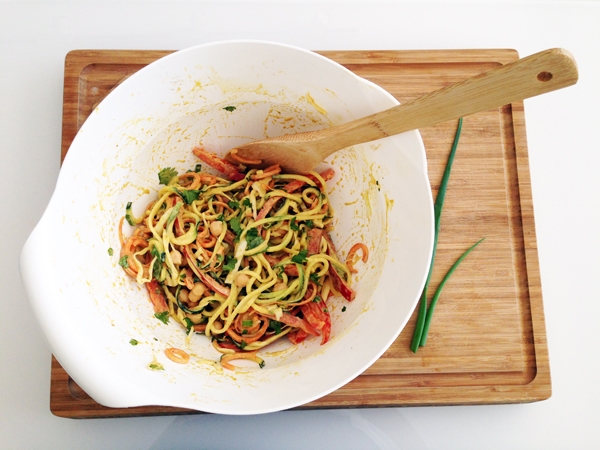 The result is a crunchy, creamy, colorful salad that makes a great lunch, snack, or light dinner.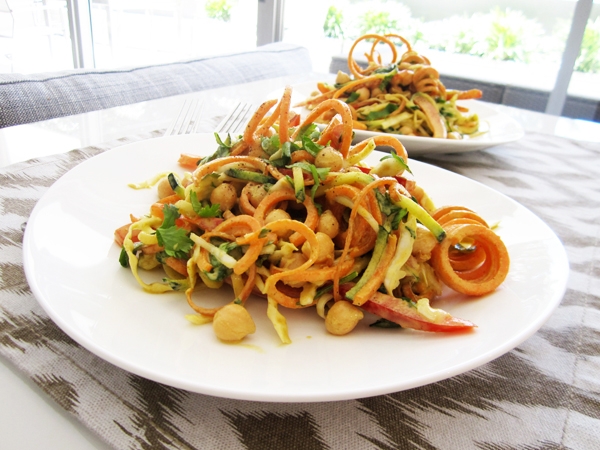 While I originally intended this to be a 100% raw dish, the addition of chickpeas softens the crunch of this fresh salad – not to mention adding a protein punch. However, feel free to leave out the chickpeas if you want a 100% raw salad and/or are serving another source of protein on the side.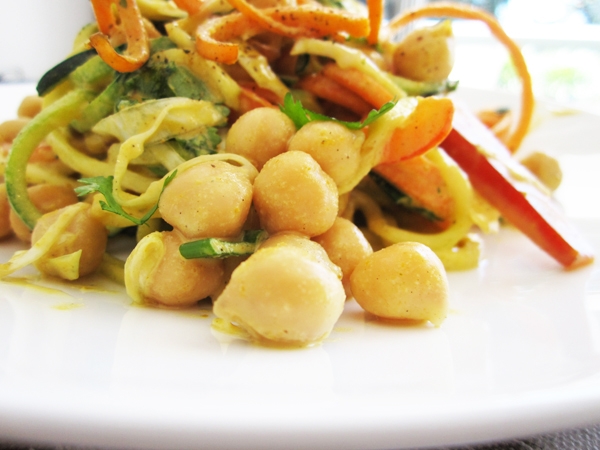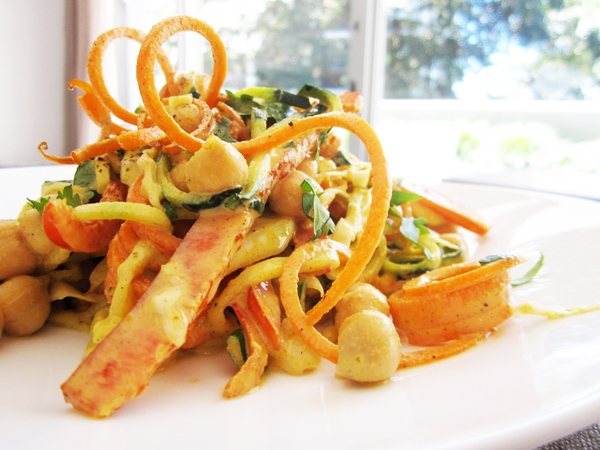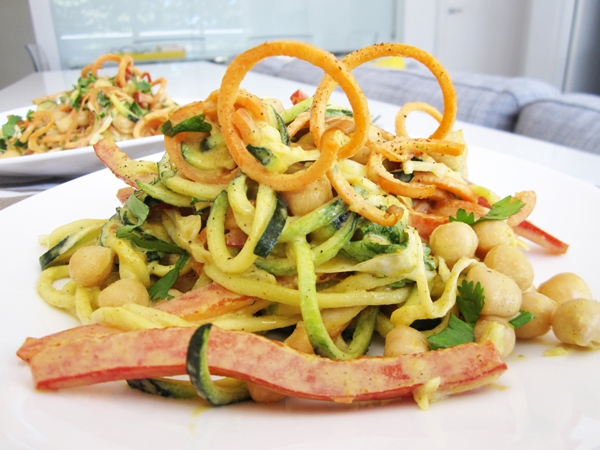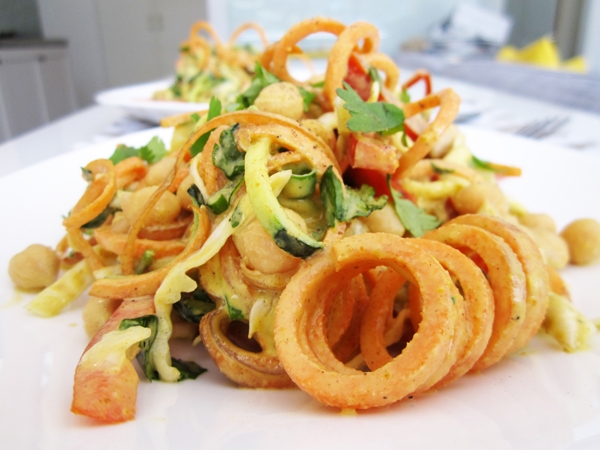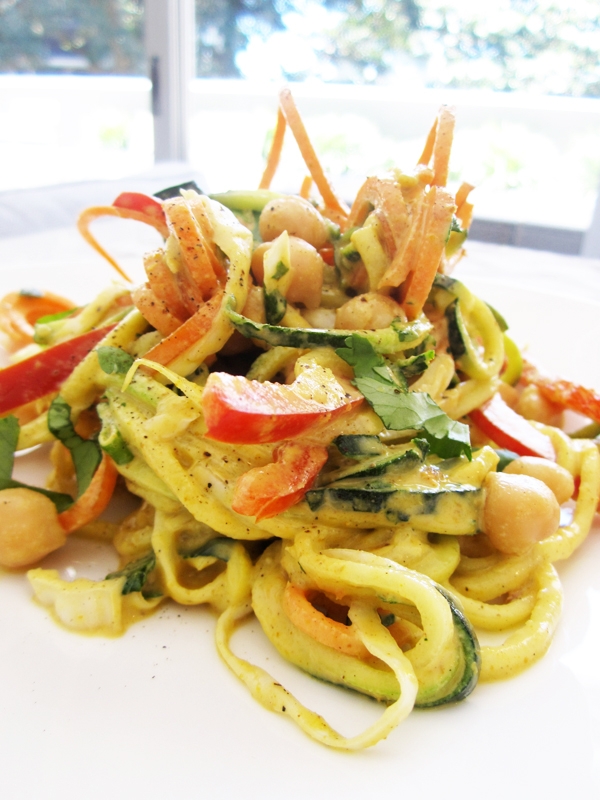 | | |
| --- | --- |
| | |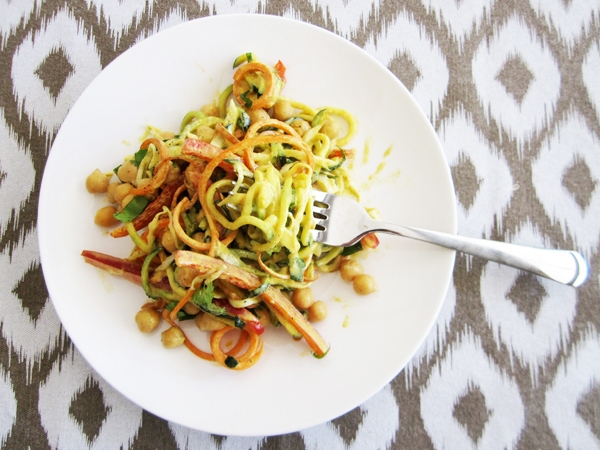 Curried Chickpea & Veggie "Noodle" Salad
A light and healthy salad of vegetable "noodles", chickpeas, and a creamy curry dressing. Vegan and gluten-free!
Author:
Angela @ Vegangela.com
Ingredients
1 cup green cabbage, cut into thin strips
1 red bell pepper (capsicum), cut into thin strips
2 carrots, spiralized or julienned
2 medium zucchinis, spiralized or julienned
¼ cup green onions (or 1 clove garlic), chopped
¼ cup cilantro (or mint), chopped
1 can chickpeas, drained and rinsed (optional)
salt and pepper
red chili flakes (optional)
Dressing
⅓ cup tahini (or other nut butter)
2 tbsp lime juice
3 tbsp maple syrup (or agave)
1 tbsp curry powder
1 tbsp fresh grated ginger (or 1 tsp dried ginger)
2-3 tbsp water (as needed)
Instructions
In a large bowl, mix all dressing ingredients, adding just enough water to thin it out to a thick dressing consistency.
Add veggies and chickpeas and mix until well-coated with the dressing. Season with salt and pepper, and red chili flakes (if using).