Readers often ask me which tools I use in my kitchen, so I've created this page to easily share my favorites.
Food Chopper & Immersion Blender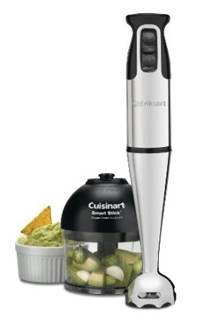 This Cuisinart Smart Stick Hand Blender With Whisk & Chopper Attachments is the ONLY electric kitchen appliance I own. I don't have a Vitamix, or a blender, or even a full-size food processor. All of the blended recipes on this website were made using one of these. You can use the immersion blender to make smoothies or to puree soups, and the chopper can be used to chop onions or blend things like dips and sauces. I can't recommend this more!
---
Good Knives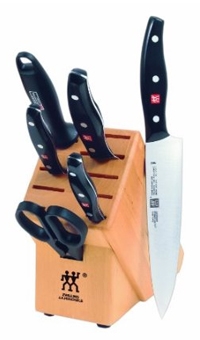 I own this Zwilling J.A. Henckels Twin Signature 7-Piece Knife Set with Block and I love it. I've read great things about the Global Chef's Knife, and it's on my wish-list to buy at some point.
---
Good Cookware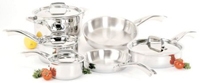 I used cheap pots for years and then my mom bought me this great J.A. Henckels Cookware Set.
The pots look great and provide great heat distribution.
---
Good Non-Stick Frying Pans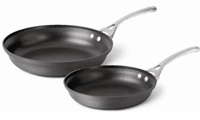 I have two of these Calphalon Nonstick Frying Pans and their coating means that I don't have to use as much oil when frying things.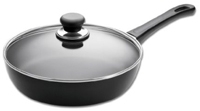 My fiance bought this Scanpan Covered Saute Pan for me and I absolutely love it. It's expensive, but I've been using it 2-3 times a day for 3 months and it looks as good as new.
---
Good Garlic Press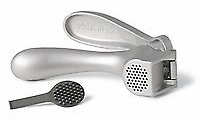 Some people claim that they're not necessary, but I have no patience for mincing garlic (or using that stuff that comes in the jar). I love my Pampered Chef Garlic Press. It's one of the few things I brought with me when I moved to Australia and back!
---
Rectangle Measuring Spoons
I also brought my Rectangle Measuring Spoon Set to Australia and back. Their long shape makes them easy to insert into spice bottles.
---
Julienne Peeler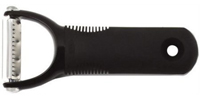 I use this OXO Good Grips Julienne Peeler to easily Julienne-cut carrots and zucchini in recipes like Raw Pad Thai and Spicy Peanut Quinoa Salad.
---
Cut-Protection Glove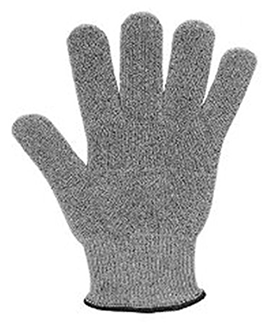 When I told my mom that I sliced my finger using my Julienne Peeler, she went out and bought a Cut-Protection Glove for me. If you're quick in the kitchen but tend to be accident prone like me, then this is a great little investment that will spare your fingers any damage 🙂
---
Vegetable Spiralizer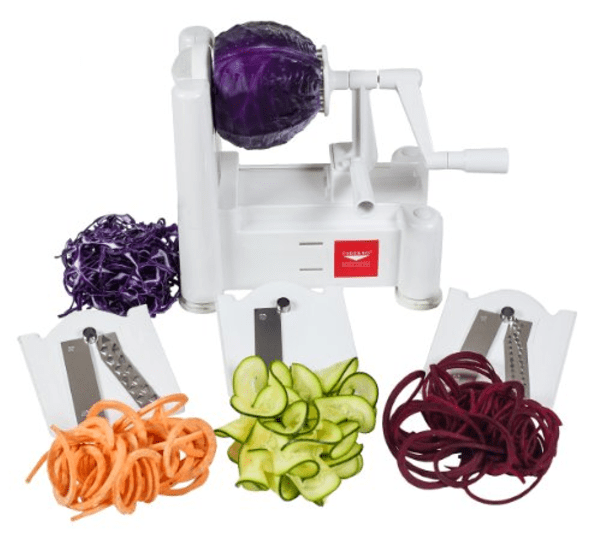 I finally bought a Paderno World Cuisine Spiral Vegetable Slicer in late 2013 and I just love it! It's so fun to use for all my spiralizer recipes, and I find myself eating so many more raw veggies because of it. All the fancy vegan restaurants charge an arm and a leg for "raw pasta" dishes, but once you have one of these babies, you can make them at home for a fraction of the cost!
---
Q: Do you have a favorite kitchen tool or appliance? Please share it in the comments area below!