If you've been following my last few posts, you'll know that I'm currently on vacation in Ottawa Canada. Right now, I'm staying with my parents and it's actually more of a "semi-vacation" at the moment since I'm working half-days and running around doing a bunch of different errands the rest of the time. My time home is always so hectic but I got to see a few old friends on Saturday evening and I was so happy to get the chance to catch up with them. It's nice to know that no matter how far you move, you've still got friends who care about you!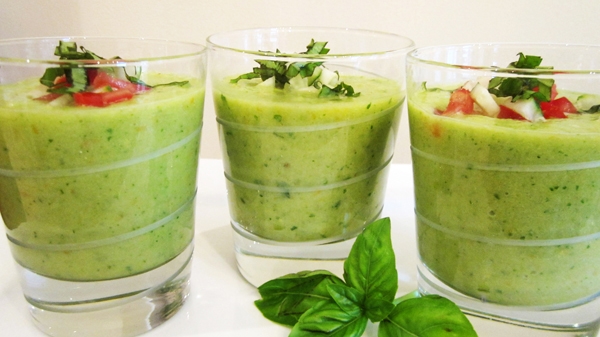 While it has cooled-down a bit here in Ottawa this week, it's still a great time to enjoy all the fresh produce from local farmer's markets and backyard gardens. My mom scored some beautiful yellow tomatoes on the weekend so yesterday, we decided to make this recipe from the the June issue of Style at Home magazine. Now, I've made spiked gazpacho before, and I dearly love my mango gazpacho, but I had never even heard of green gazpacho before. And while I've made chilled avocado soup a couple times in the past, it had nothing on this soup. This green gazpacho is light and refreshing while being incredibly creamy, due to the avocado. It's a really beautiful soup that I've quickly added to my all-time favorites.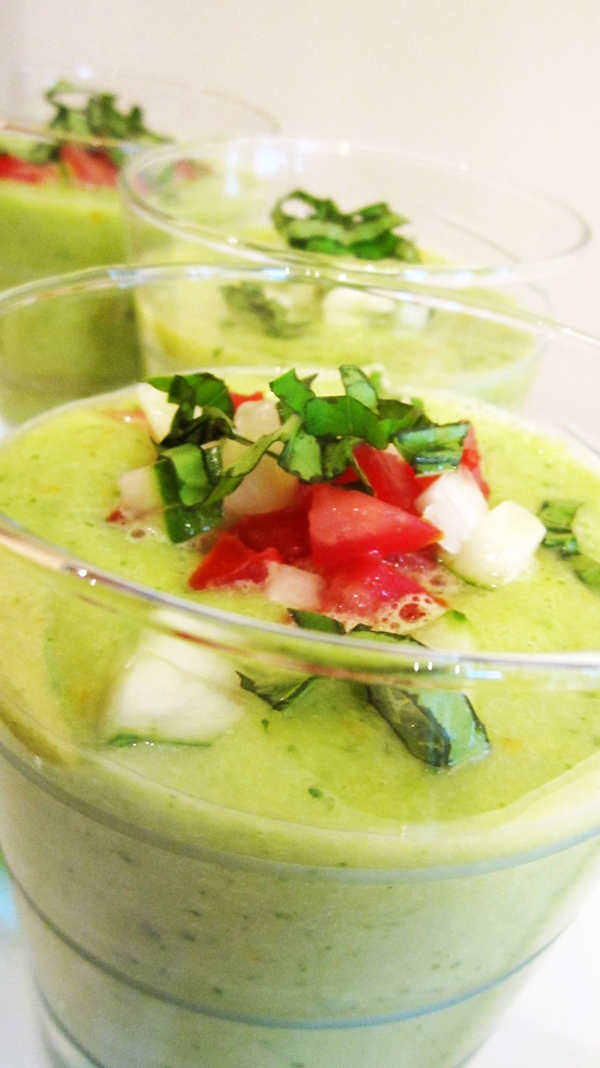 My mom doesn't tolerate super acidic/spicy foods, so we prepared the soup without the chili, set aside a bit of it for her, and then added the chili and pureed the soup again for my dad and I. Her soup was also served without the red tomato garnish.
Notes
The original recipe includes croutons in the garnish, but we left them out to make this a 100% raw and gluten-free soup.
Make sure to plan ahead so that the soup has at least an hour to chill in the fridge – the flavors will really come out and it will be super refreshing.
Gazpacho is great served in small bowls or short drinking glasses (like these cute ones my mom found at HomeSense). It also looks great in shot glasses, so it would be great for a tapas-style meal or informal gathering.
We garnished the soups before serving them, but the original recipe states that you can serve the soups on a tray of ice and display the garnishes in separate bowls to have your guests garnish their own. It's a cute idea that I'll try at some point.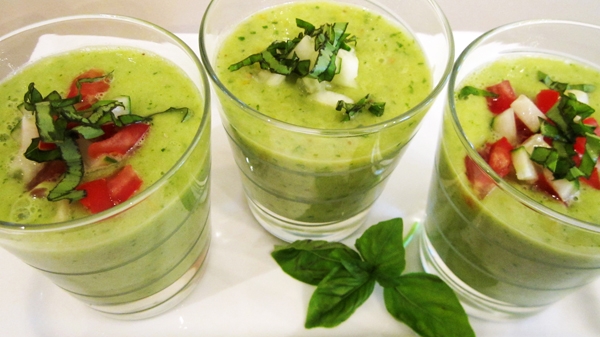 | | |
| --- | --- |
| | |
Green Gazpacho
This refreshing green gazpacho is fresh and delicious. Raw, vegan and gluten-free! Makes 5 cups.
Author:
Angela @ Vegangela.com
Recipe type:
Soup, Appetizer, Starter
Ingredients
1 English cucumber
1 yellow bell pepper (capsicum)
3 yellow tomatoes
¼ small sweet white onion
1 ripe avocado
1 cup vegetable stock (or just use water to make it 100% raw)
1 tsp freshly squeezed lime juice
2 tbsp extra virgin olive oil
¾ cup fresh cilantro
1 clove garlic
1 Thai chili
1 tsp salt
Garnish
1 2-inch piece reserved cucumber
1 each: yellow and red tomato
½ cup small croutons (use gluten-free as required, or leave out to make it 100% raw)
¼ cup small basil leaves
Instructions
Cut a 2″ piece of cucumber and reserve for the garnish. Peel the rest and chop into large chunks; place in a blender or food processor. Chop the remaining vegetables into chunks and add to the blender along with remaining soup ingredients. Process the mixture until smooth. Pass soup through a sieve, pressing with the back of a spoon to release as much liquid as possible. Discard the solids. Refrigerate the soup for 2 or 3 hours to allow all the flavours to mingle.
To prepare the garnish, finely chop the reserved cucumber piece and dice the tomatoes. Place each of the garnishes in its own bowl for guests to help themselves. To serve, pour the chilled soup into small cups and set on a tray filled with ice, with the garnish bowls on the side.
Notes
Makes 5 cups
Source: Style at Home Magazine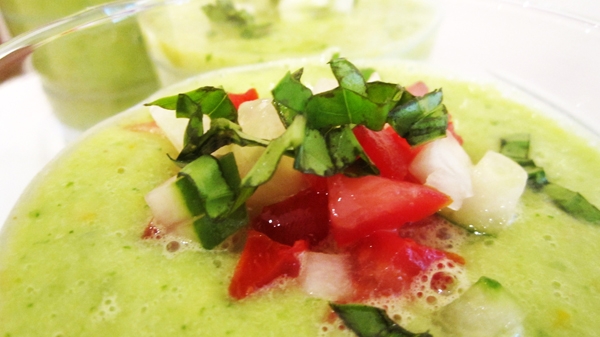 | | |
| --- | --- |
| | |