I love the colors and flavors of Mexican food. On their own, avocado and cilantro are probably two of my favorite things, but add beans, tomatoes, cumin, and a bit of spice and well… that's the start of some of my favorite meals!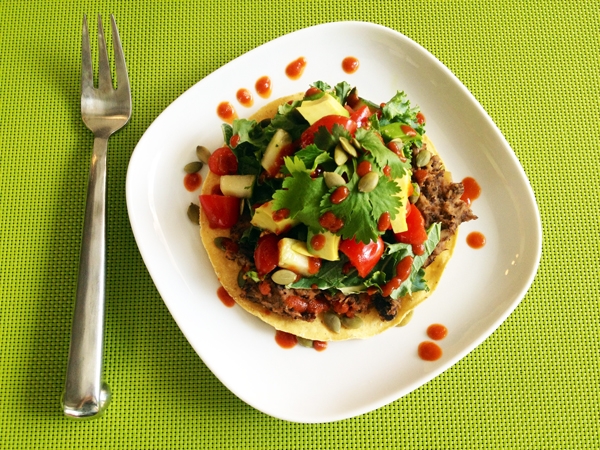 Refried beans are so easy to make and they can be used in so many ways. So even if you don't have tostadas on hand, try making them and finding creative uses for them.
Other uses for these refried beans:
In hard or soft tacos or fajitas
As a delicious taco salad filling
Served on some Mexican quinoa or rice
In mini Tostitos cups, topped with guacamole and salsa, for fun and easy appetizers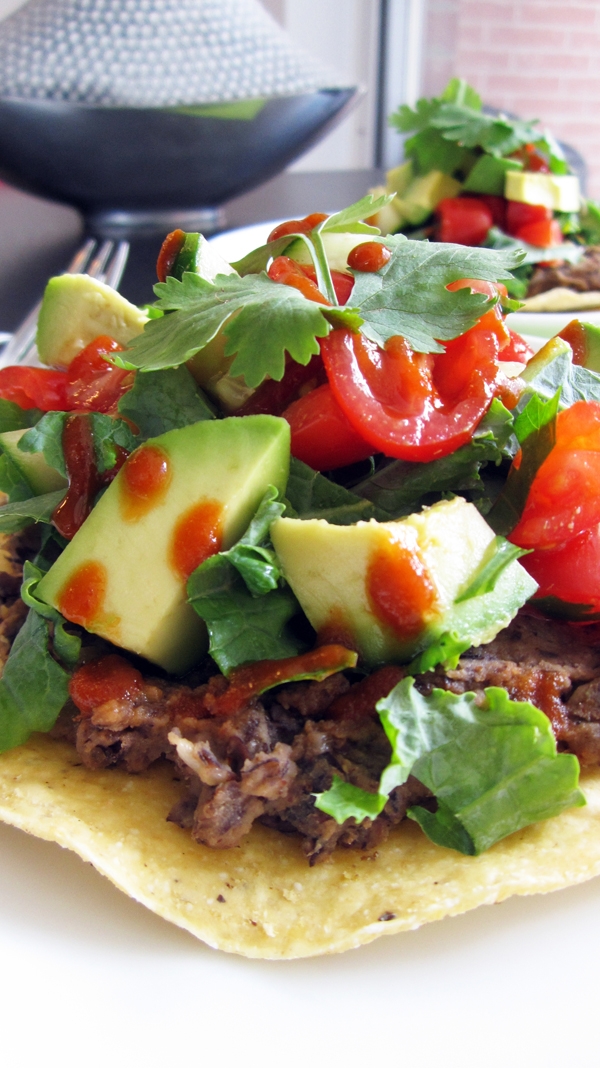 This recipe is versatile, so just use what you have on-hand…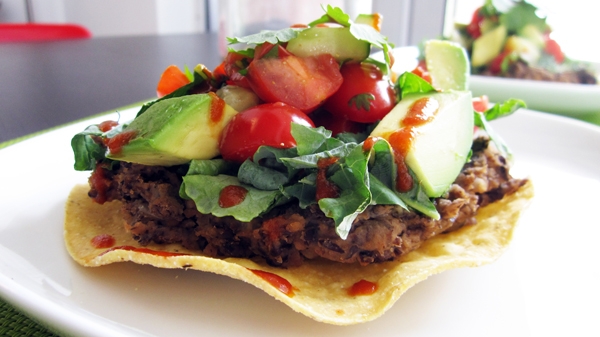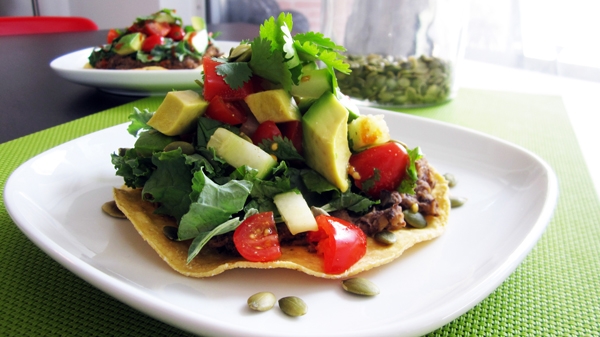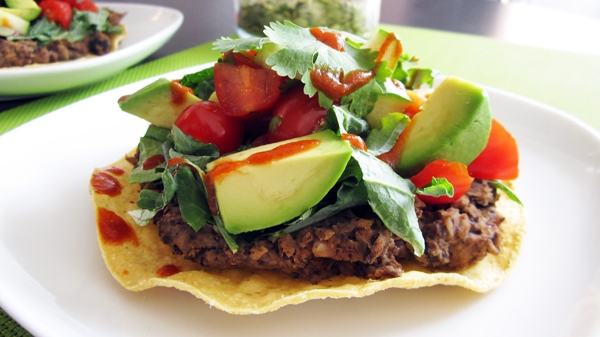 I topped my tostadas with:
shredded kale
diced avocado and cucumber
salsa (I didn't have any store-bought stuff on hand so I quickly mixed some quartered grape tomatoes, cilantro, lime juice and cumin)
cilantro (fresh coriander)
Sriracha sauce
pepitas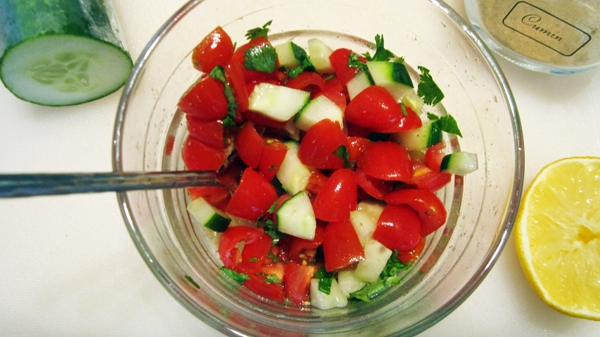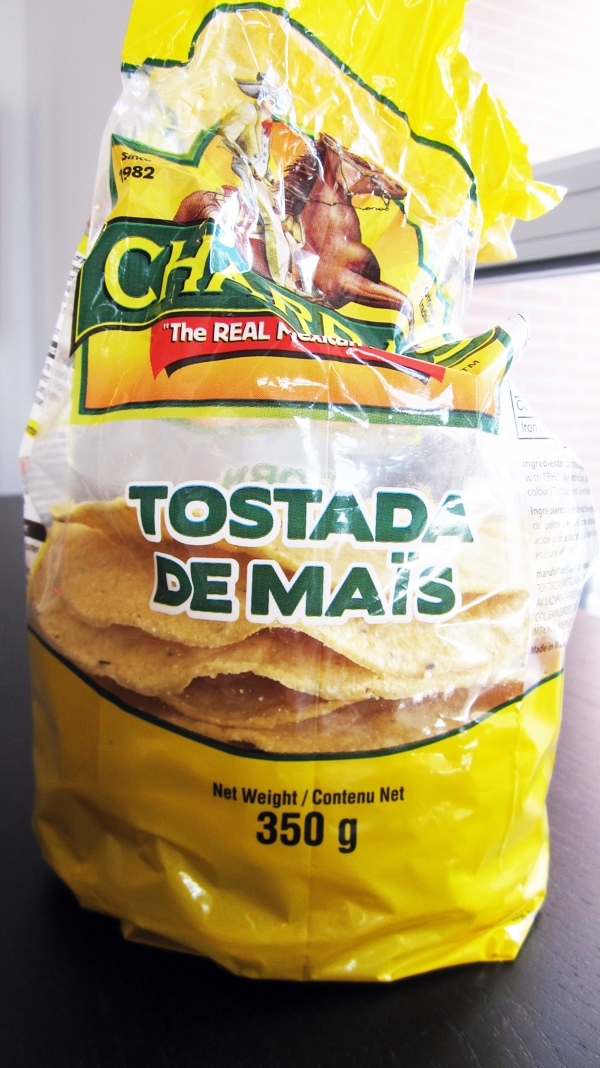 You can certainly fry the tostadas in some oil before topping them, but I've kept this really healthy and easy by just toasting up in the oven instead.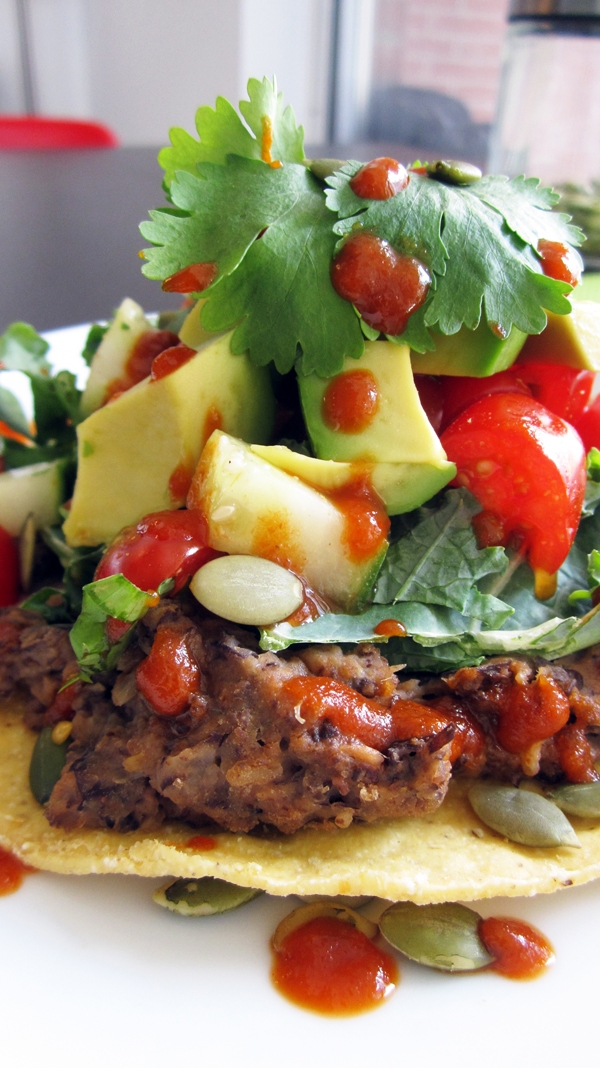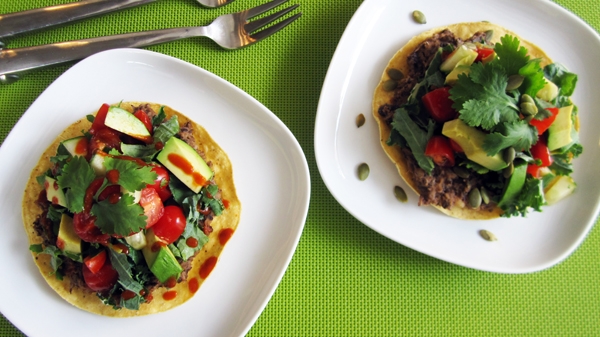 Refried Black Bean Tostadas
Author:
Angela @ Vegangela.com
Recipe type:
Main, Appetizer
Cuisine:
Mexican, Tex-Mex, Southwestern
Ingredients
2 tbsp olive oil
½ large onion, diced
1 clove garlic, minced
½ tsp chili powder
½ tsp cumin powder
1 can black beans, drained
¼ cup water
Tostadas
4 Tostadas
1 tbsp olive oil
Topping Options
Shredded lettuce greens (kale works wonderfully!)
Salsa
Vegan sour cream
Vegan shredded cheese
Diced avocado
Diced cucumber
Cilantro (fresh coriander)
Pepitas
Hot sauce
Instructions
Refried Black Beans
Heat oil in large frying pan over medium-high heat. Add onions and garlic, and saute until translucent, about 3 minutes.
Stir in chili powder and cumin powder, and cook for 1 minute.
Add the black beans and water, and cook until beans are tender, about 4 minutes. Use a large fork or potato masher to roughly mash the beans. Cook for another minute.
Tostadas
Preheat oven to 400F. Brush the tostadas lightly with the oil and place on a cookie sheet. Bake for 5 minutes, then turn tostadas, and bake for 3-6 minutes longer until the tostadas are crisp and light brown.
Divide and spread the refried bean mixture onto the 4 tostadas, add toppings, and serve with hot sauce, if desired.
Notes
Serves 4 starters/appetizers, 2 mains