I came across this recipe after Heather from Where's the Beach left a comment on my Grilled Mediterranean Veggies with Bean Mash post. I clicked on her website link, and initially just bookmarked the recipe to try at a later date, but then I started to think about lunch, and realized that I had everything on hand to make it.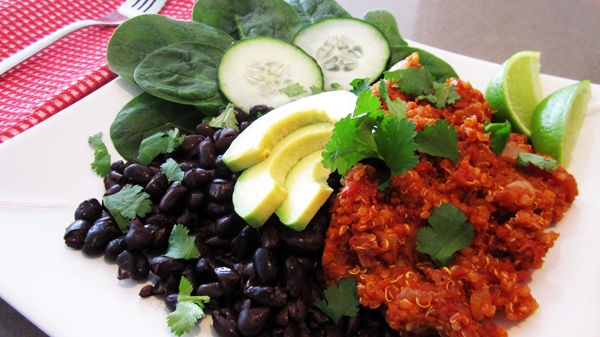 I've made impromptu Mexican rice a few times, but I've always used white or brown rice. Using quinoa is an even healthier alternative, so I doubt that I'll use anything else going forward.
I've always just used vegetable broth or water to make my quinoa. It never occurred to me to use canned tomatoes. Again, it's something I'll be keeping in mind in the future.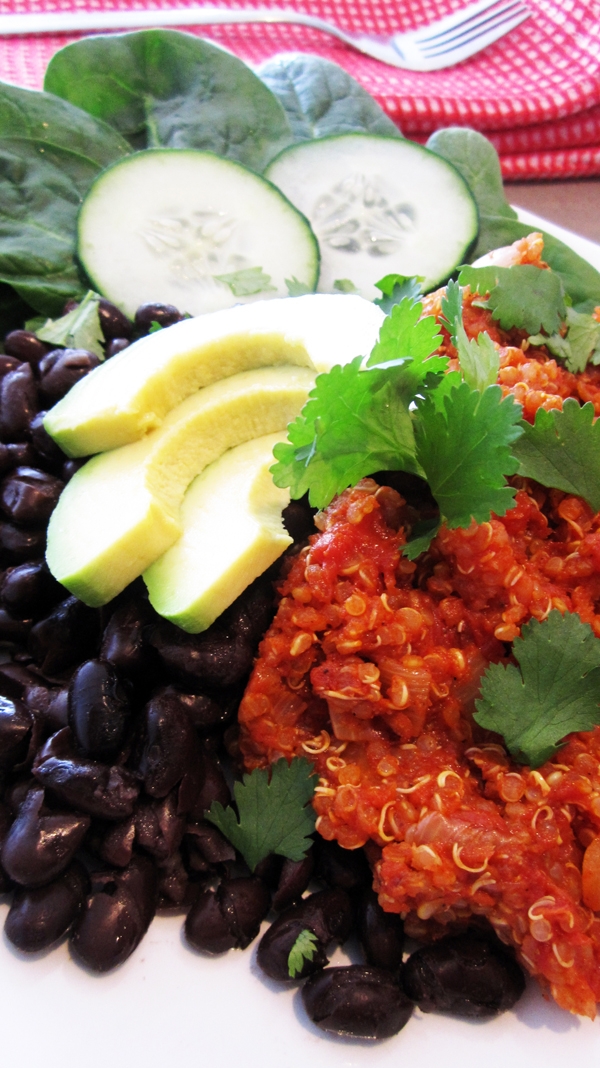 Thanks Heather, for this easy little recipe!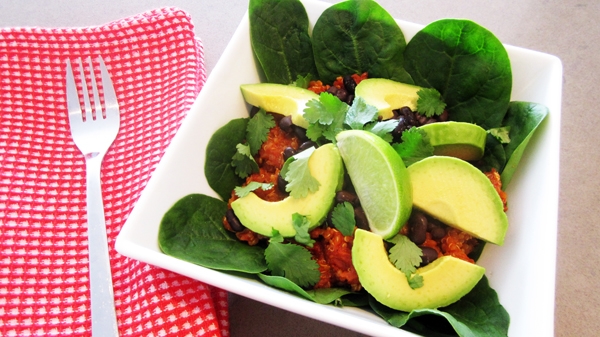 Notes
I added a sauteed onion and 1 clove of minced garlic to the quinoa, along with some cumin, chili powder, salt and pepper. I served it alongside some baby spinach and black beans, with a slice of lime and some fresh cilantro (fresh coriander).
This makes 2 generous servings. I served everything in a bowl on the first day, and opted for a plate the next day.
The quinoa is simple but satisfying and it would be a great side dish to any Southwest/Mexican meal, including refried beans, taco salad, enchiladas or fajitas. I add quinoa directly into my vegan chili, but this would be great served with regular vegetarian chili.
Update
June 6, 2016 — I made this again tonight and realised that you can just as easily cook everything in one-pot. So I've updated the recipe accordingly!

Easy Vegan Tex-Mex Quinoa
This quick and easy one-pot Tex-Mex quinoa is great with a side of beans. Or, stir-in some corn and black beans at the very end for a super-fast chilli! Great served with diced avocado and cilantro. Vegan & Gluten-Free.
Author:
Angela @ Vegangela.com
Cuisine:
Mexican, Southwest, Tex-Mex
Ingredients
1 tbsp olive oil
1 onion, diced
1 clove garlic, minced
1 tsp cumin
¼ tsp chilli powder
1 can (400ml) diced tomatoes, with liquid
⅓ cup quinoa, rinsed
salt and pepper
Instructions
In a medium saucepan, heat oil over medium heat and fry the onion, garlic, cumin and chilli powder until onions translucent.
Stir-in the diced tomatoes (with juice) and quinoa, and bring to boil. Lower heat to lowest setting, cover saucepan and simmer until quinoa is ready, about 15 minutes. Season with salt & pepper.
Notes
Adapted from: http://wheres-the-beach.blogspot.com.au/2011/08/hitting-gym-and-lazy-means-creative-tex.html